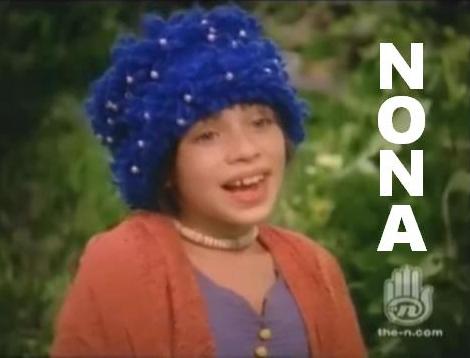 There are some pictures of me at around age 10 wearing a candy necklace and otherwise looking deranged. That's because I was just one step into the process of transforming myself into Nona F. Mecklenberg, younger Pete's friend on
The Adventures of Pete and Pete.
The F stood for Frances but it may as well have stood for Fashion, with her bowling shoes, tube socks, and elastic floral print skirts. She made me long for a pair of rainbow striped pants and a blue knit hat with pearl beads. It probably would have been cute to wear these things when I was in 4th grade, but I don't think it was quite in line with my mother's vision for me and anyway we shopped at Mervyn's. I still have latent Nona tendencies.
The best thrift store in the world
is a mere block away from my house and I'm making up for lost time. The translation of Nona onto an adult body, however, is kind of bag lady meets
Blossom
.
And of course there is Ramona Quimby, the reason I've had a bob haircut for most of my life.
Who are (were?) your style icons?